2017年10月19日
Walking Times from the Mt. Rokko Guide House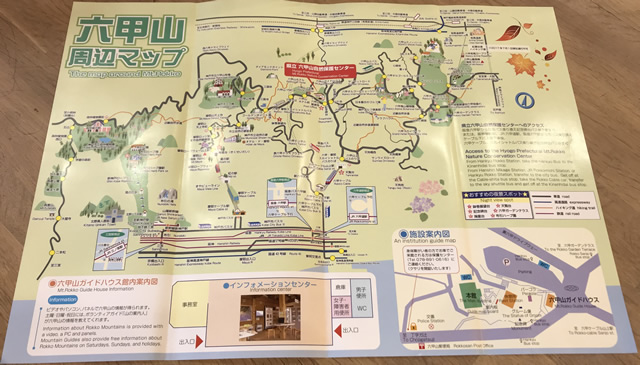 The Mt. Rokko Nature Conservation Center & Mt. Rokko Guide House is centrally located at the one traffic light on Mt. Rokko.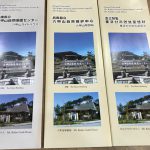 Information to get to the Guide House can be found in the Access section at the bottom of the page. Once you are here, please be sure to stop by for a free map (available in several languages) and other information on what is happening on the mountain.
Roads and hiking trails from here lead in all four directions and there are many routes to choose from and places to go. Below is a list of places to travel to and the approximate walking times. Please note that depending on weather conditions these times can vary greatly.
North:
Gyozado: 30 mins
Arima-guchi (Shrine Road): 2 hrs
South:
Rokko Cable Sanjo Station: 15 mins
Rokko Cable Bottom: 10 mins via Cable

Via Abura-kobushi: 1 hr 15 mins
Via Ice Road: 1 hr 20 mins
East:
Kobe Golf Club House: 15 mins
Miyoshi Kannon: 25 mins
Hall of Halls: 25 mins
Rokkō Alpine Botanical Garden: 30 mins
Garden Terrace: 30 mins
Arima Ropeway: 30 mins
Country House: 35 mins
Gokuraku Chaya (Entrance to Koyodani): 45 mins
Rokkosan Peak: 1 hr 30 mins
Takarazuka: 5 hrs
West:
Mae-ga-Tsuji (Entrance to Ice Road): 10 mins
Choji-ga-Tsuji (Road down): 15 mins
Mikuni Pond: 25 mins
Diamond Point: 35 mins
Rokkosan Pasture: 40 mins
Somadani, Hodaka Lake: 50 mins
Mayasan: 1 hr 25 mins
Ichi-ga-Hara: 3 hrs
Shin-Kobe Station: 4 hrs
Happy Hiking!