2018年7月26日
Safe Summer Hiking on Rokkosan
Safe Summer Hiking on Rokkosan
As we get into the hot days of summer, the colors of the sunsets viewed from Rokkosan can be quite spectacular. While Rokkosan is often 5 to 10c cooler than in downtown Kobe, it is very important to take persuasions to avoid heat exhaustion and heatstroke.
Ways to prevent Heatstroke and Heat Exhaustion are:
-Drink liquids (water, etc.) often.
Drinking water is the most basic way to prevent heatstroke. Drink before your throat feels dry.
-Take salt
Since there is a suitable amount or salt in sports drinks, make good use of them.
-Avoid outdoors when it is extremely hot
Avoid going outdoors when the level is high on the "heat index" used as an indicator for the prevention of heatstroke is shown on TV or the Internet.
-Pay attention to room temperature
Heatstroke can happen in the home. Do not bear the heat! Make good use of the air conditioner and electric fan
to lower room temperature.
-Keep room temperature comfortable during sleeping hours
Heatstroke/hypothermia can occur while you are sleeping. Pay attention to the room temperature during sleeping hours.
Be aware of Signs of Heatstroke and Heat Exhaustion:
If you have any of the following you might be getting heatstroke or heat exhaustion
-Difficulty breathing
-Excessive sweating and panting
-Increased heart and respiratory rate
-Vomiting
-Dizziness or lightheadedness
-Dehydration
-Skin becomes hot, flushed or stops sweating completely
What to do if you think you might have Heatstroke or Heat Exhaustion
-Drink liquids, water, sports drinks, etc hydrate and help restore the body's salts.
-Take a shower and sit facing a fan to encourage evaporation and cooling down of the body
-In case of a high fever, place ice packs on neck, armpits, groin area and back to stimulate cold wetter immersion.
-Seek medical help.
If you have any questions, please contact the Chuo Fire Station, Disaster Prevention Division at 078-241-0119
Some Information via Kobe City Chuo Ward News.

Also if you are looking to turn your cell phone into a GPS map to help prevent getting lost as well as print hiking maps and share your hiking experience with friends and family, download the YAMAP app (App Store or Google Play)
Find out more information at the YAMAP Home Page (In English and Japanese).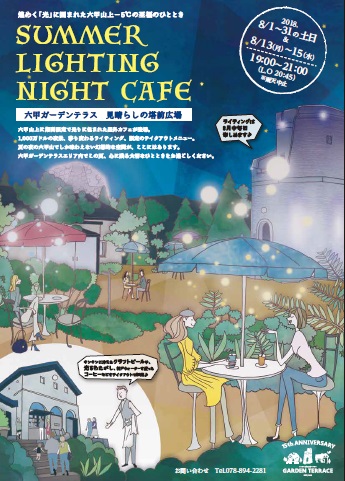 If you are looking for a romantic and cool way to spend some evenings in August. Saturdays and Sundays from August 1st to the 31st as well as August 13th to the 15th from 19:00 to 21:00 the "Summer Lighting Night Cafe" will be going on at the Rokko Garden Terrance. Craft beers, light up snow cones and cotton candy as well as coffee and tea made with Kobe water.
The lighting will be throughout August.
August 26th from 18:30 and 20:00 there will be a Special Jazz Live performances and on August 11th and the 25th from 14:00 and 16:00 there will be Wadaiko (Japanese Drum) performances with the city view as a background.
Enjoy a spectacular evening on Rokkosan!